News, Updates & Information
October 21, 2017:  Our transportation company, DAP, has confirmed that our January 13th flight from Punta Areans, Chile to King George Island will be aboad this aircraft, a BA-146.  We are counting the days.
Oct. 10, 2017:   OUR SEA CONTAINER IS PACKED!!  After weeks of inventorying, packing, padding and weighing  supplies and equipment, we have sealed our container and loaded it aboard a truck bound for the port of Savannah.  The contaner will go by sea to Manzanillo, Mexico; by rail to Balboa, Panama; then by sea to San Antonio, Chile; Copihue, Chile; and finally Punta Arenas, Chile.  The contents will be taken aboard our ship in Punta Arenas, and meet our team at King George Island in the South Shetlands on January 13, 2018.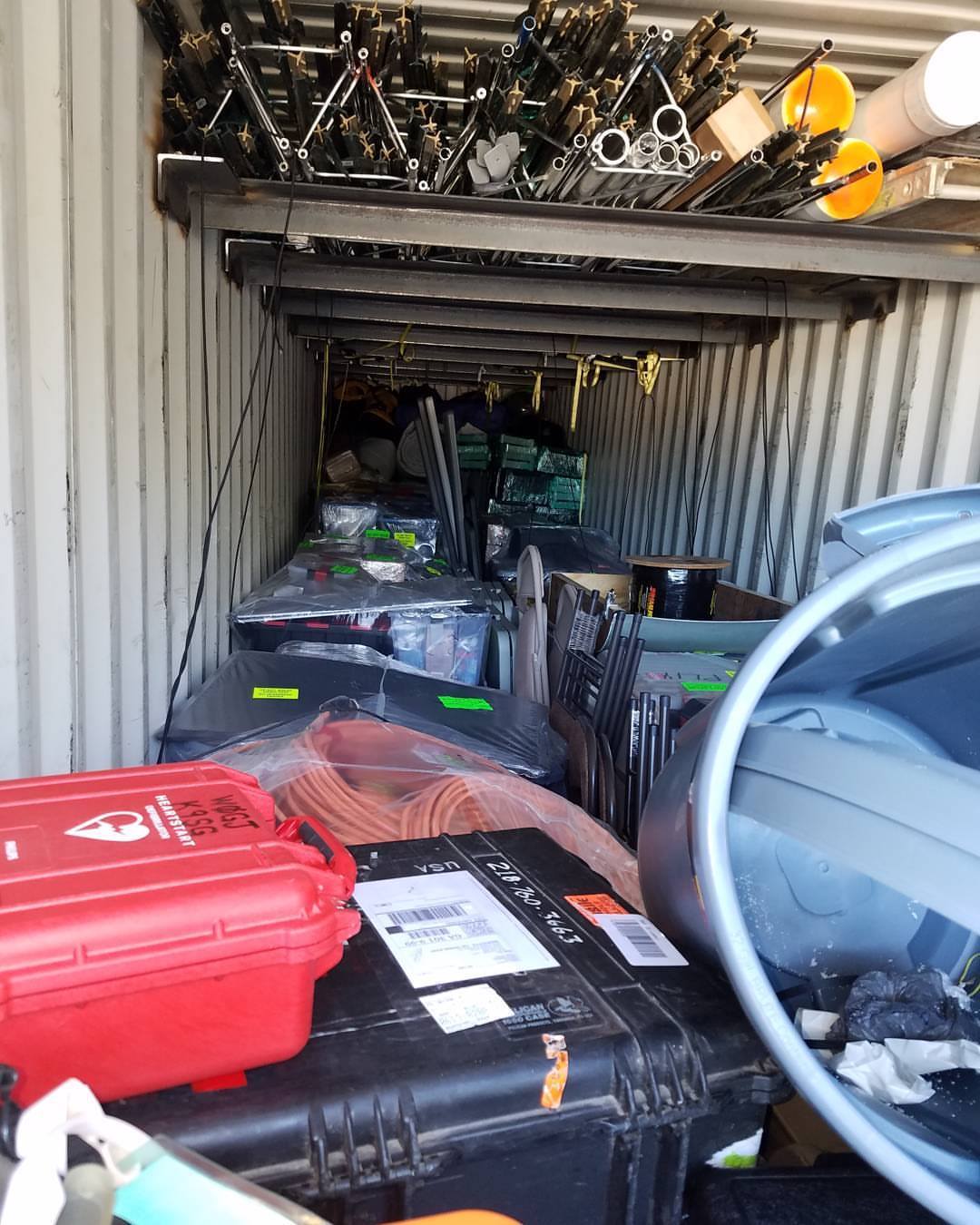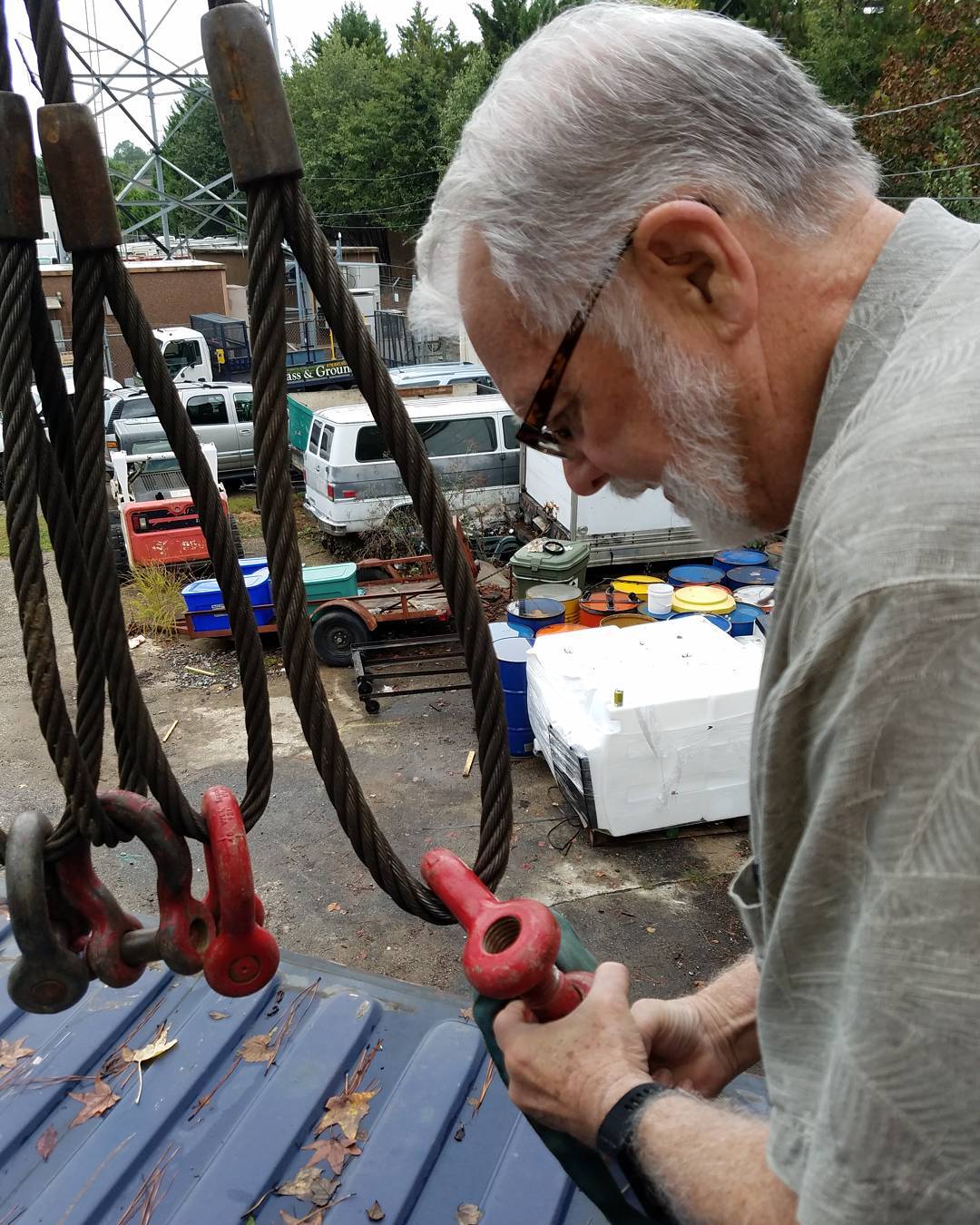 George, N4GRN closing a shackle.
Gregg, W6IZT tensioning a line to the crane.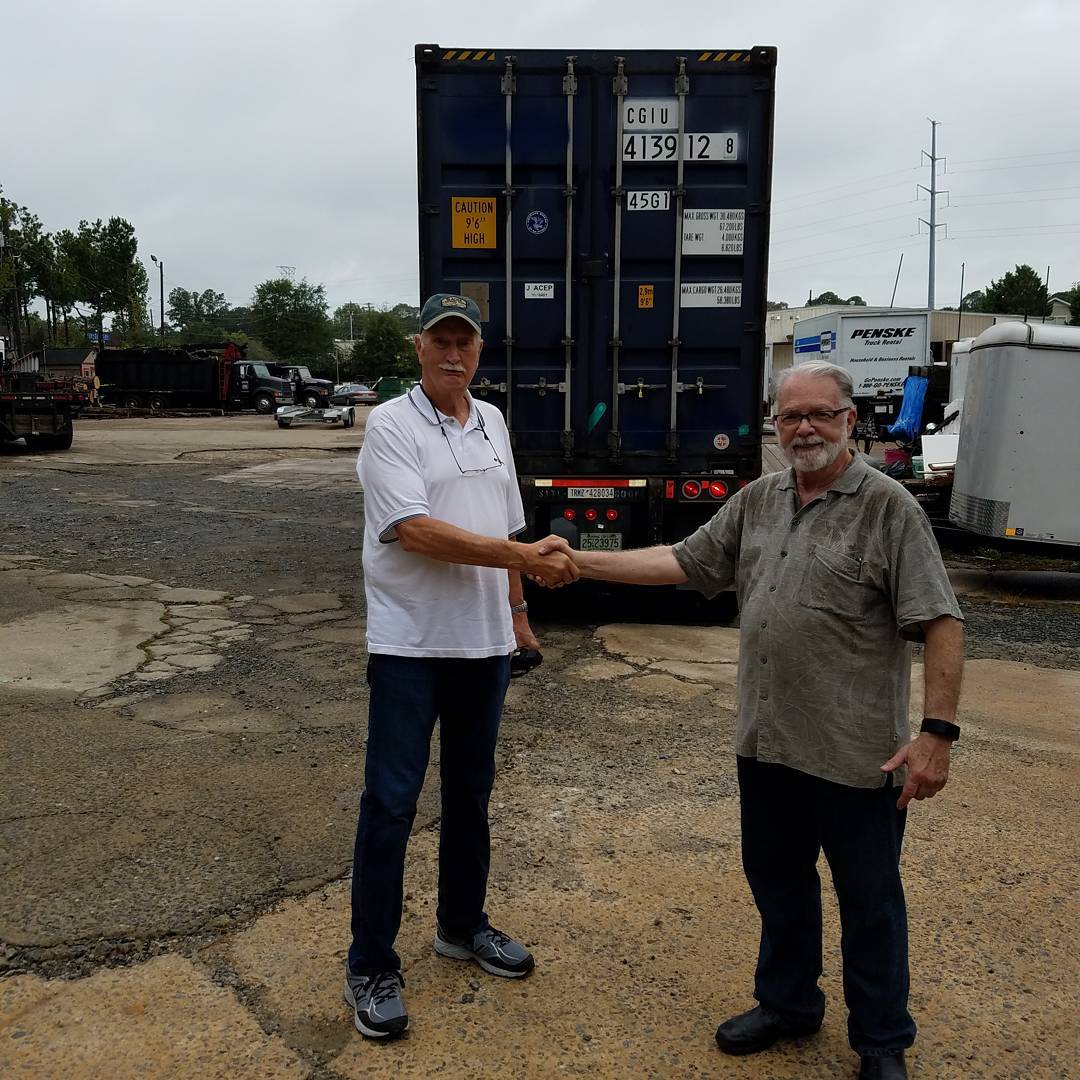 Bob, K4UEE and George, N4GRN with the container loaded and on its way.
Sept. 30, 2017:  Our sea container is 95%+ inventoried, packed and documented for customs.  Two items are scheduled to go into it by midweek, and then the container is off to Chile, where we will meet it in January.  Gregg, W6IZT and George, N4GRN did an enormous amount of work to accomplish this, and are shown here.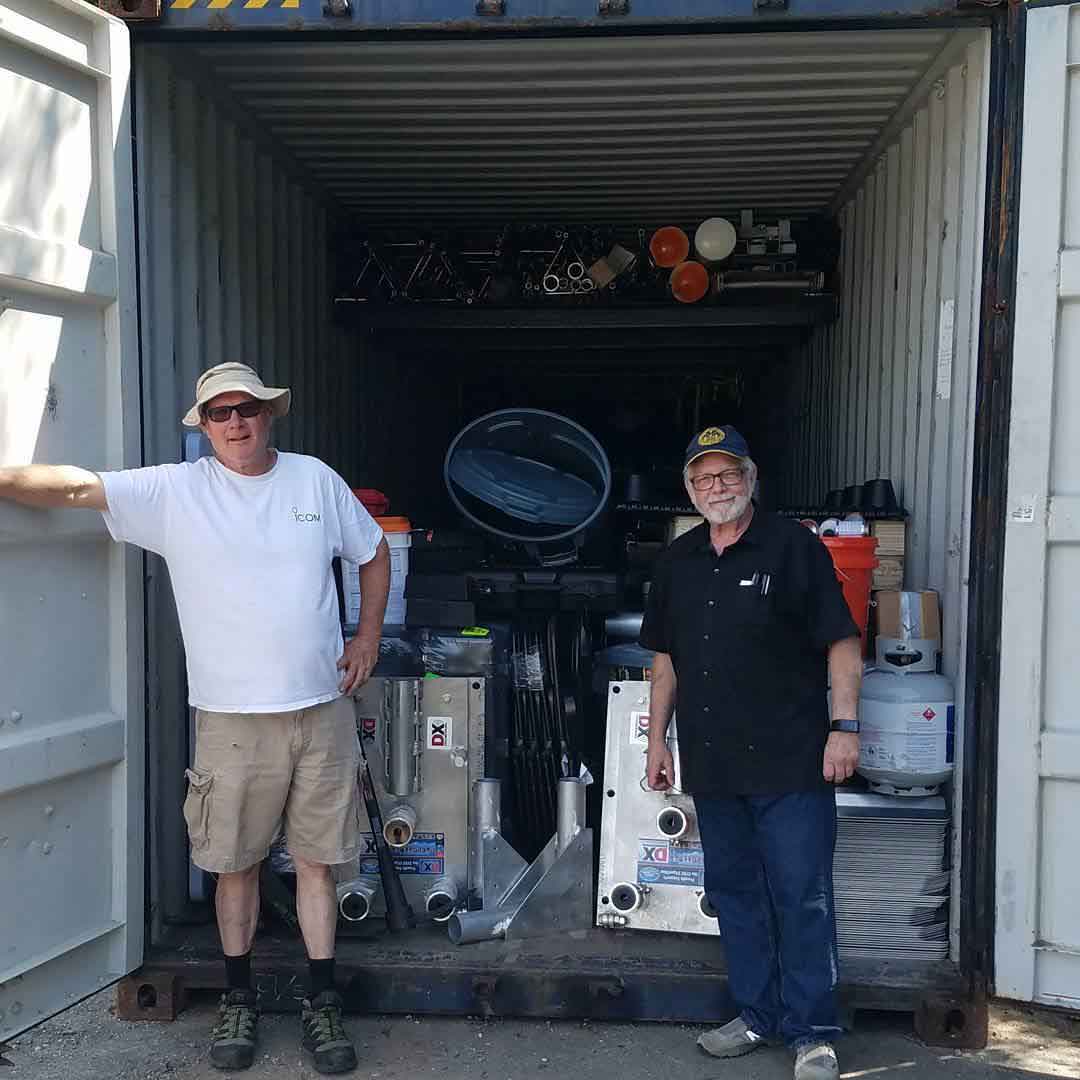 Sept. 7 – 10, 2017:  18 of our 20 team members from 6 nations assembled in Atlanta, GA for planning meetings, safety briefings, equipment packing, inventorying, container packing and getting to know each other.  It was a very successful weekend for us.  A highlight was testing our 2 meter EME setup.  It worked!  We completed a QSO with our pilot, PA2CHR.
Tilt-up base units for our falling derrick masts and a stack of snow anchors from DX Engineering.
Team leaders K4UEE, KØIR and LA6VM.  Generators are being tested and run up behind them.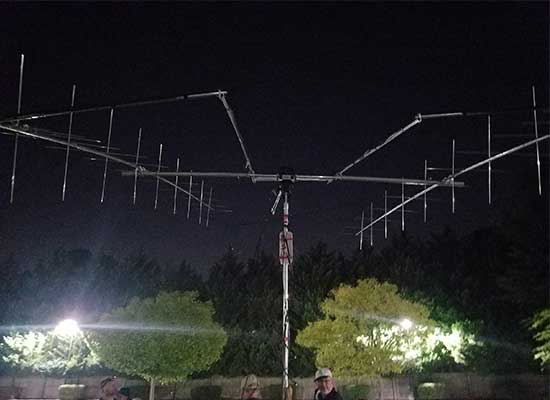 We assembled and tested our 2 meter EME station during this exercise and worked PA2CHR.
A small fraction of our equipment being packed and inventoried in one of our storage areas.
Sept. 6, 2017:  Meet Bryant, KG5HVO our 13-year old Youth Pilot, who found amateur radio through the Boy Scouts.  He's an avid DXer, a 35 WPM CW contester, a CWops member and was a member of the 2017 Dave Kalter Youth DX Adventure to Costa Rica.  He's on fire to fulfill his role in the Bouvet Island DXpedition, and we are excited to have him on our Off Island Team.  Welcome Bryant!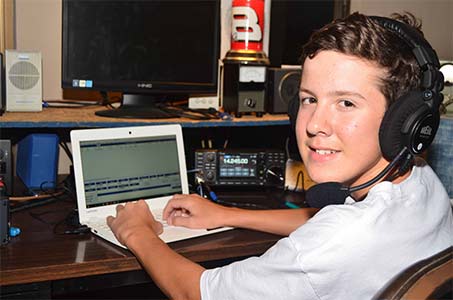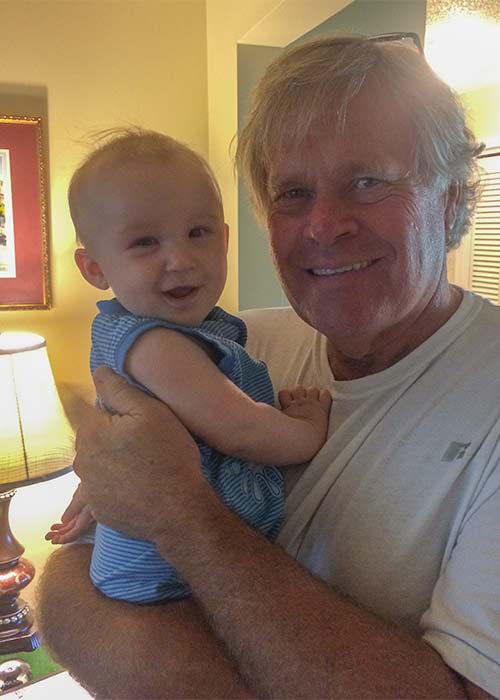 Aug. 27, 2017:  Our team would like to publicly recognize and thank Stan, K5GO (and his grandson, Lawrence) for all of their help designing and building our DXpedition Yagi antennas.  We used his antennas on Amsterdam, FT5ZM, and found them to be an incredible asset for us and for you the DXer on the other end.  Thank you, Stan!
Aug. 25, 2017:  We are proud to show you our Bouvet Island DXpedition 160 meter vertical antenna.  The antenna was designed by EY8MM and DX Engineering, and fabricated by the DX Engineering staff.  It is a 90-foot beauty, consisting of 70 feet of aluminum tower section and a 20-foot stinger on top.  It is top loaded, tuned with two base coils, and raised with a 40-foot falling derrick.  The VSWR at 1.825 MHz is 1:1.0, rising to 1:1.7 at 1880.  We have the radials pre-cut, spooled up and ready to install.  When we couple this transmit antenna with our directional receive antennas, you should be able to hear us, and we should be able to hear you.  SEE YOU ON 160 FROM BOUVET!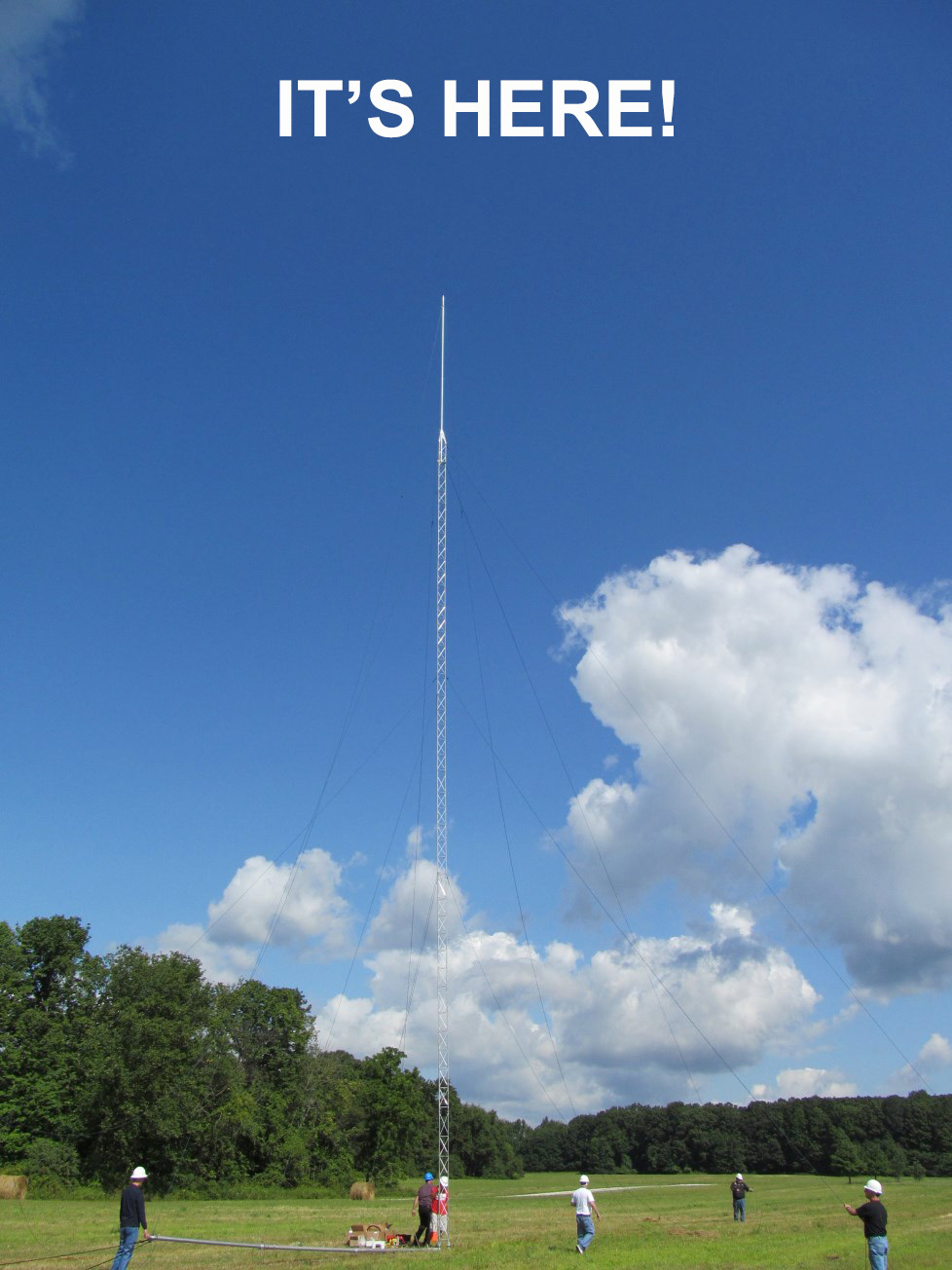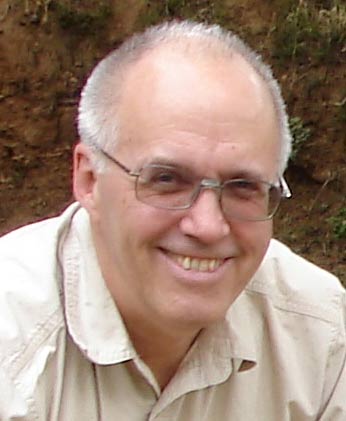 Aug. 23, 2017:  None of us are immune from family medical and health issues.  Unfortunately, Neil – VA7DX, faces this issue and had to withdraw from our DXpedition team.  We will miss his skills and wit.  Keith – VE7KW, will be taking Neil's place.  Keith brings DXpedition, contesting, and foul weather experience to our group and is a retired electrical engineer.  We welcome Keith to our team.
Aug. 18, 2017:  Ten more Flex stations arrived at K9CT's QTH, each packed in its own Pelican case and including a power supply, a 6500 or 6700 Flex radio, a Maestro, a RadioSport headset, and necessary wires and cables.  We will have a total of 14 stations, all of which will be teamed with its computer and tested on our network.  When complete, the stations will be shipped to Atlanta for packaging in our shipping container.  Two stations will be set up at our Atlanta team meeting during Sept. 7 to Sept. 10.
August 4, 2017 was a really big day for us.  We learned that the Northern California DX Foundation directors voted to contribute $100,000 to our DXpedition.  This represents the largest DXpedition contribution ever made by the NCDXF.  We as a team will do all that we can to be worthy of that degree of trust and that level of support.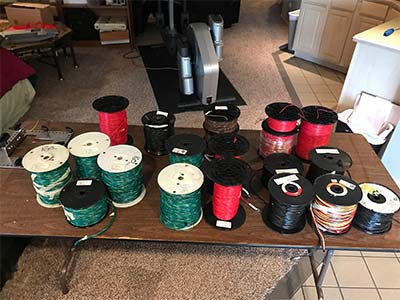 Aug. 4, 2017:  How much radial wire does a DXpedition need?  3YØZ needs quite a bit.  We have a single vertical for 160, two verticals for 80, a single vertical for 60, a 4-square and a single vertical for 40, and a vertical for 30 meters.  Jim, N9TK, has  been busy pre-cutting radial wire for all these antennas and placing the cut sections on spools.  The spooled up wire you see in the photo to the left totals over 24,000 ft.  We'll spread these radials over the ice on Bouvet with the hopes of being loud and easy for you to work.  Thanks for all your effort, Jim.
July 29, 2017:  We regret losing our team member, Andy, UA3AB.  We have traveled with Andy previously, and regret he cannot join us this time.  Andy cannot be away from home for an extended period of time and be unable to return home in the event of an emergency.  Our friend, Hawk, SM5AQD will be joining our team.  Hawk's personality, experience and work ethic will blend beautifully with our team.
July 27, 2017:
FLEX Station #1 packed and ready.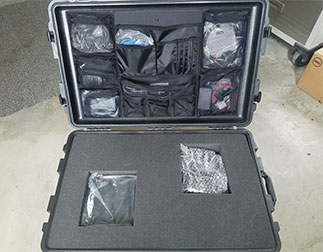 July 26, 2017:  We are happy to have the support of the DX'ers of Turkey.  They have published a very nice website about Bouvet and our DXpedition.  Click the image at the left to visit the site.  Our thanks to the hams of Turkey.
See you in our log!

July 22, 2017:  More DX clubs and organizations are "Stepping It Up," increasing their support of the Bouvet Island DXpedition with second contributions.  Additional contributions have come from INDEXA, The German DX Foundation, The Southeast DX Club, The Greater Milwaukee DX Association, The Eastern Iowa DX Association, The Northern Illinois DX Association and most recently The Twin City DX Association.  We sincerely appreciate this support, and would love to see your club or organization added to this growing list.
July 8, 2017:  We regret that Steve, VE7CT has had to cancel his plans to join us on Bouvet.  Steve has traveled with us multiple times, and we will miss him.  Steve has recommended his good friend Paul, W7IV to take his place.  Paul brings years of maritime experience, a love of contesting and the zeal of a relatively new DXpeditioner to our Bouvet DXpedition.  We welcome him to the team.
Dayton 2017:   The Bouvet team proudly announces that our team member, Jerry Rosalius, WB9Z was inducted into the DX Hall of Fame at the annual Dayton DX Dinner.  Shown with Jerry are Bob, N2OO (left) and Ralph, KØIR (right).  Jerry's accomplishments in DXing are legendary, but his outstanding traits making him so worthy of this honor are honesty, integrity and character.  With Jerry, there will be four DX Hall of Fame members on the Bouvet DXpedition (WB9Z, WØGJ, K4UEE & KØIR).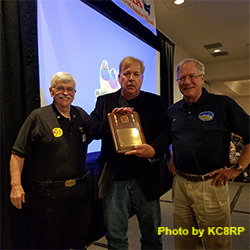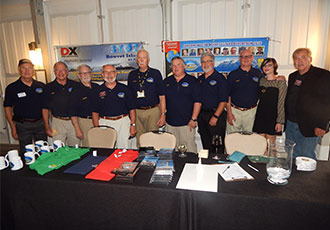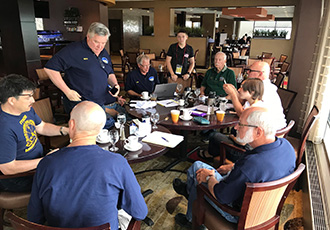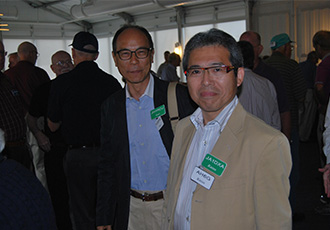 DAYTON 2017
Left:  10 Bouvet DXpedition team members attended Dayton.  Shown left to right:  K9CT, KØIR, N4GRN, WØGJ, K4UEE, N9TK, W8HC, W6IZT and daughter KJ4PQV and WB9Z.  Not shown is EY8MM.  Photo courtesy of K8CX.
Center:  Team meeting.  Clockwise from the bottoM: K9CT, EY8MM, N9TK, KØIR, Collin (grandson of N4GRN), K4UEE, W6IZT, KF4PQV and WØGJ.  Taking the photo and not shown is W8HC.
Right:  Two visiting Japanese friends and supporters: JH1ROJ and JA1DXA.
Our low band specialist, Nodir, EY8MM gave an outstanding presentation at the Low Band Dinner in Dayton.  He discussed the evolution of our low band antennas and operating strategies, and how they have led to an ever increasing number of low band QSOs on our DXpeditions.
May 5, 2017:  We are extremely pleased to announce new transportation arrangements.  We have arranged these with consultation from Nigel Jolly.  A Chilean vessel equipped with heavier-duty helicopters will take us from Punta Arenas, Chile to Bouvet Island, as scheduled.  Read Press Release #5, accessed from the lower right sidebar, for the full story.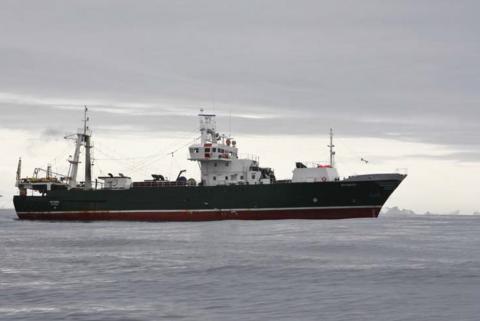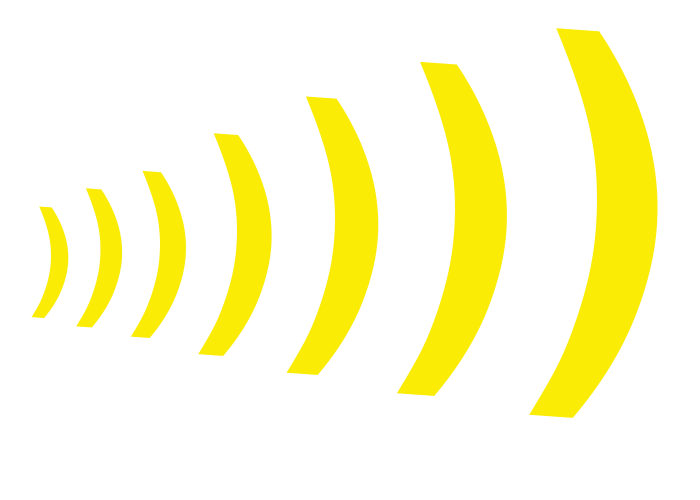 May 1, 2017:  We have added a propagation page to our website.  It displays a series of videos showing propagation predictions during our anticipated stay on Bouvet Island — January & February of 2018.  Find the page in our header menu, and click on one of the videos to display time, frequency and strength of signals anticipated at your QTH.  The predictions are based on the average sunspot numbers predicted by the National Oceanic and Atmospheric Administration (NOAA) for January of 2018.
March 27, 2017:  Franz, DJ9ZB will be unable to join us in the Bouvet DXpedition.  We enjoyed working with Franz on Malpelo, and regret loosing him.  Many of you know Pista, HA5AO who will now be joining our team.  Pista is well know for his previous DXpeditions, innovative talents, humanitarian projects, problem solving abilities and operating skills.  It is a pleasure to have him with us on the Bouvet Island DXpedition.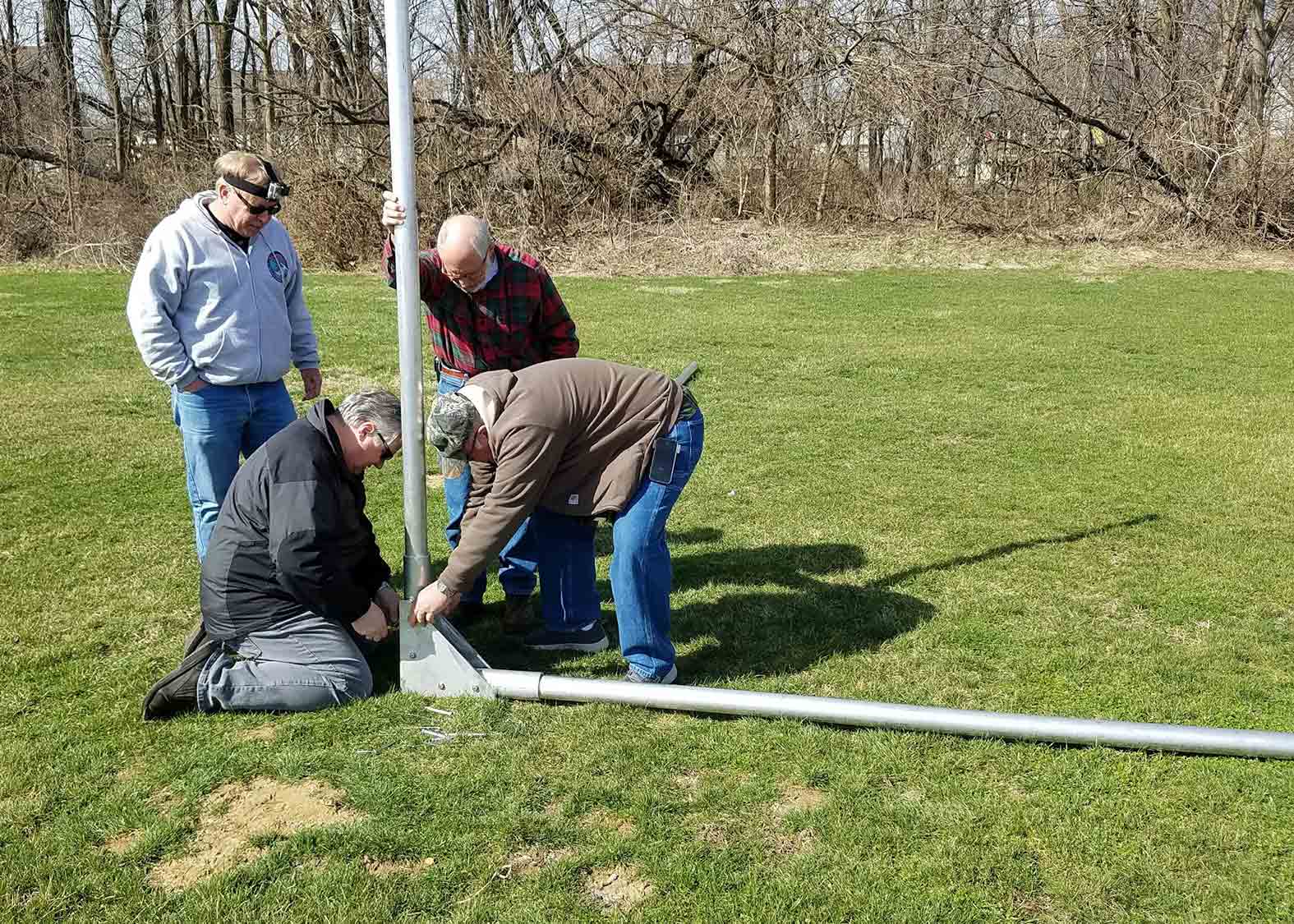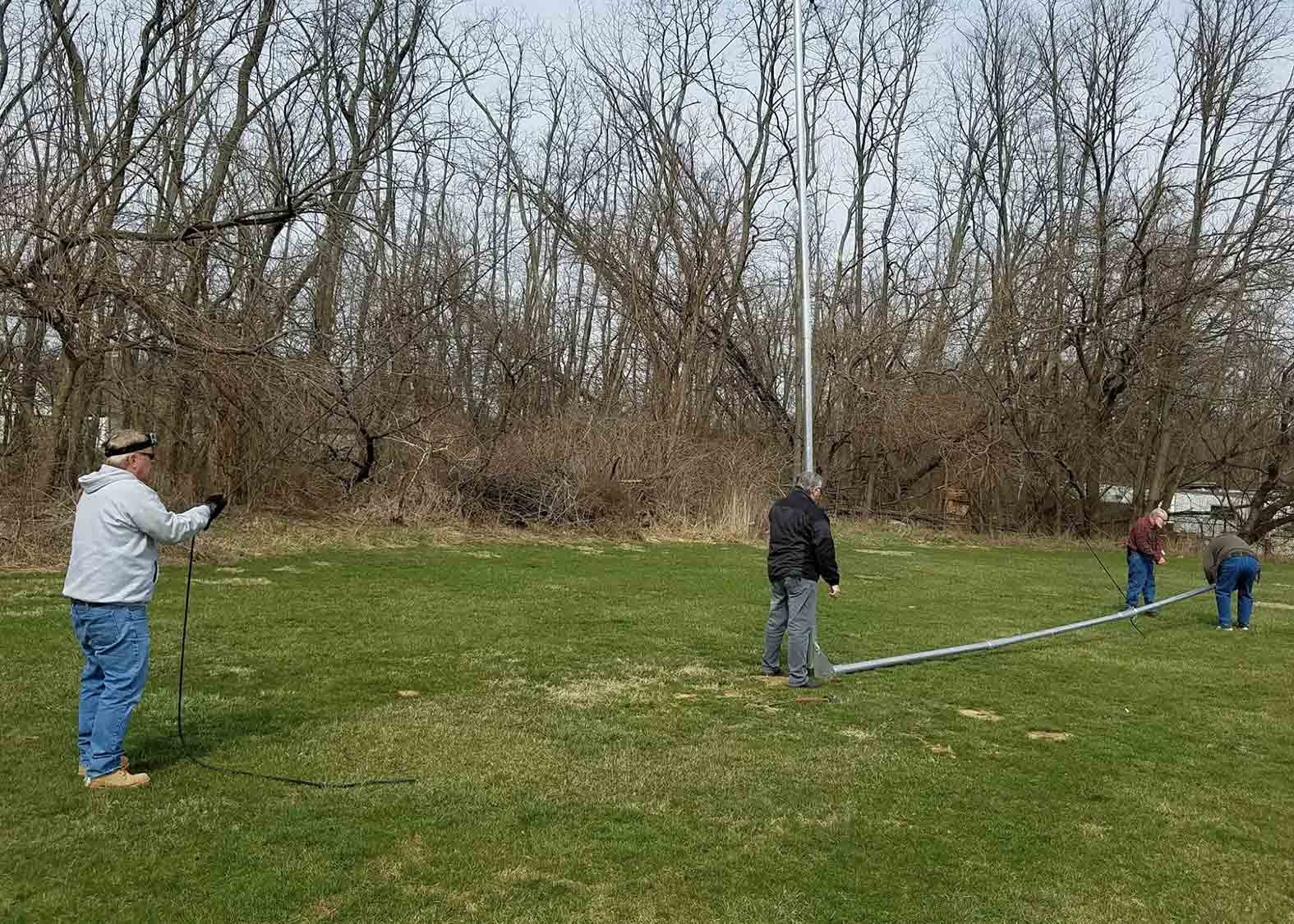 March 9, 2017:  K9CT, K9NU, N9TK, WØGJ, and WB9Z met at K9CT's QTH to assemble, erect and test the 3YØZ antenna masts manufactured for us by DX Engineering.  The rugged construction and falling derrick system will allow for quick deployment and mechanical stability in the hostile weather of Bouvet Island.
February 12, 2017:   We regret that Jorge, HK1R will not be able to join us on the Bouvet DXpedition.  Jorge was with many of us on the Malpelo DXpedition and the Amsterdam Island DXpedition.  We will miss him greatly on the upcoming Bouvet trip.  Hopefully, Jorge will be able to join us on another adventure in the future.  We look forward to that, and thank him for his help thus far.
Harumi Kukita "Hal," JR4OZR will be taking Jorge's place on the team.  Hal has past DXpedition experience and is a well known and competitive contest operator.  We welcome him to our team.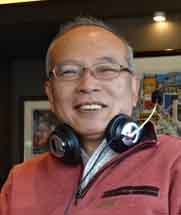 On January 11, 2017, five of the 3YØZ operators (KØIR, N9TK, W8HC, WØGJ & WB9Z) and Chief Pilot, NV9L met with Tim Duffy, K3LR and 11 members of his DX Engineering staff. The chief topic of discussion was development of masts and antenna support hardware able to withstand the winds and weather of Bouvet.  The HF antennas and EME arrays need to be at a height where they can be effective, and yet able to withstand the harsh conditions of Bouvet.  Working drawings were developed, and the engineers at DX Engineering are now developing prototypes for testing.  The group also considered how products developed for Bouvet might also serve unique needs of other radio amateurs.
Bouvet Island DXpedition chief pilot Val, NV9L interviewing Tim, K3LR and Teri, K8MNJ from DX Engineering.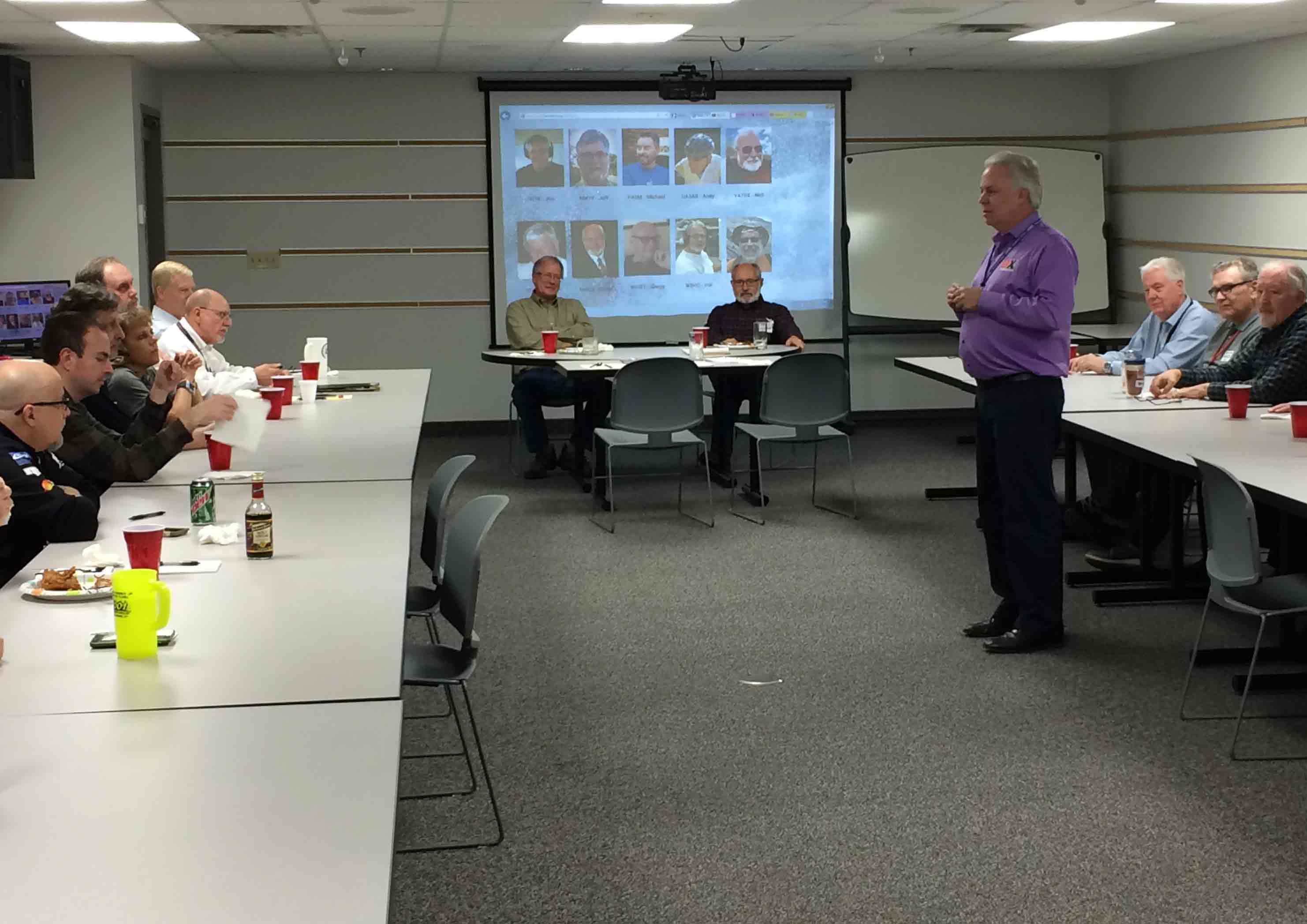 Tim, K3LR leading discussion about DX Engineering's involvement in the Bouvet Island DXpedition.
Ralph, KØIR discusses snow anchor dimensions as Tim, K3LR and Glenn, WØGJ look on.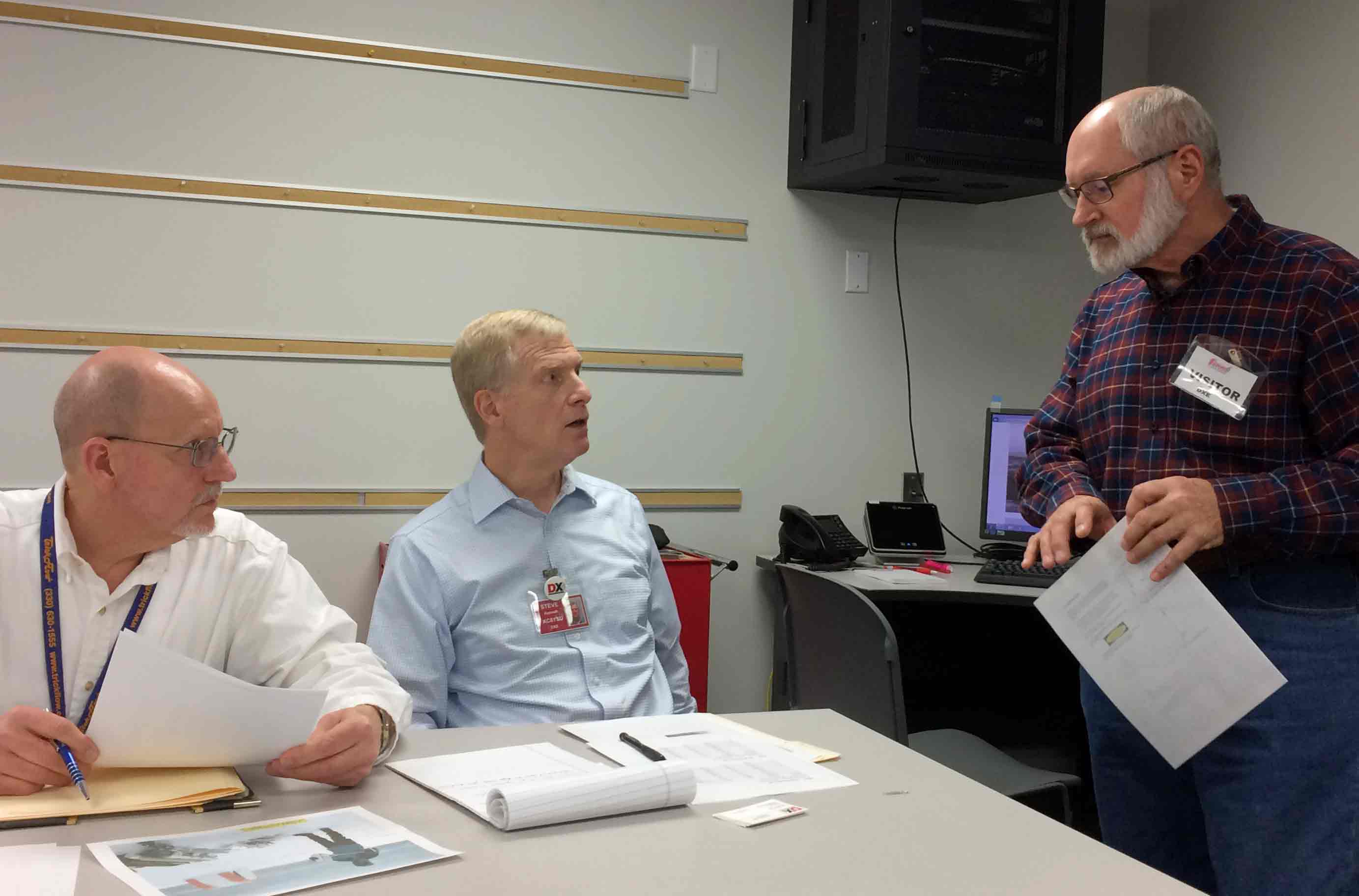 Glenn, WØGJ discussing a falling derrick antenna system with engineers from DX Engineering.
Now you can help the DXpedition, and at the same time, enjoy souvenirs and memorabilia of the upcoming Bouvet Island DXpedition.  Cups, mugs, T-shirts, sweatshirts, bags, hats and more are available.  Click on the image to the left to visit our store at CafePress.
A Message From the DXpedition Team
Our Commitment to You
A DXpedition to Bouvet is not to be taken lightly.  Bouvet is a serious and dangerous place; demanding attention to safety, serious planning, physical and mental endurance, time to allow for storms and rough seas and a team with the right balance of size, experience, talent, emotional stability and sense of purpose.  We feel we have met these criteria, but, when we arrive at Bouvet, we also need to attend to our obligations to you, our financial supporters and DX audience.  How we meet those obligations and expectations will define us as a team.
It is our belief that, given the rarity of this entity, we must pull out all the stops.  We must utilize maximum legal power, the best antennas, world class transceivers, propagation studies, the best location on the island, a safe vessel and crew, highly qualified helicopter pilots and the complementary resources of our team.  We will need near real time information flowing to us through our extensive pilot system, so that we can maximize our primary purpose — providing QSOs.
We have a conscience.  We will not do this just for the sake of doing it and end up using a compromised location, less than 24/7 coverage of all open bands, limited power, inefficient antennas and insufficient time at the island.  We want to do this right, and give everyone the best possible chance of making the QSOs they desire – be they on 160, the WARC bands, SSB, CW, RTTY or 6 and 2 meter EME.
Rest assured that we will do our very best for you!  No shortcuts or compromises!
The 3YØZ Bouvet Island DXpedition Team
Japanese DXers Organize to Support 3YØZ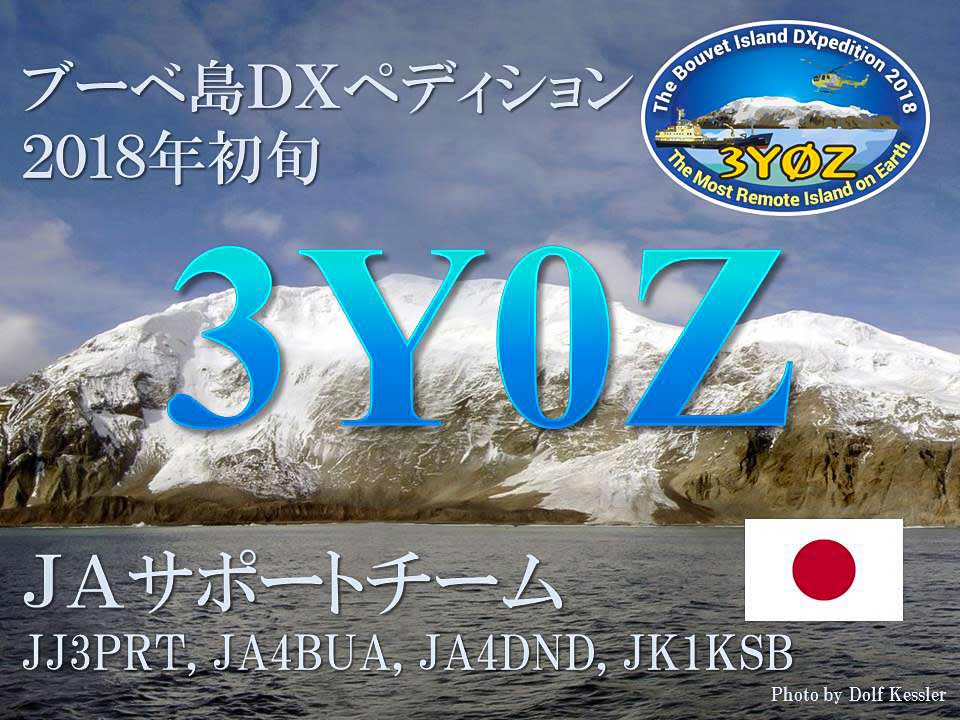 JA4DND – Hiro, JJ3PRT – Joe, JA4BUA- Kuwa, and JK1KSB – Oku have organized a Bouvet Island DXpedition support group in Japan.  They will work with Japanese DXers and DX Clubs.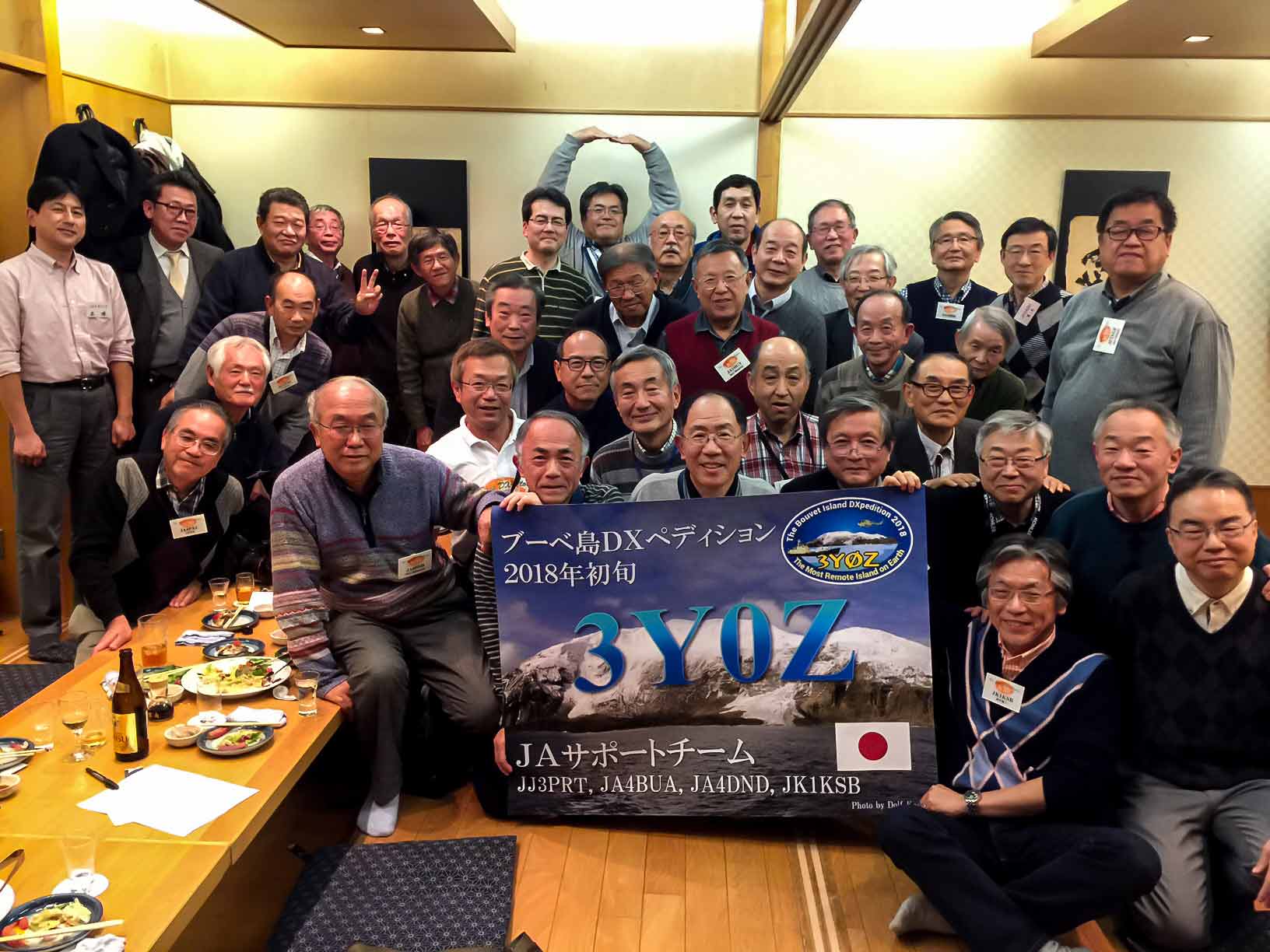 Members of the Far East DXPloiters gather for their year end party.  As part of their celebration, they are displaying the 3YØZ banner.  We thank the FEDXP for their support.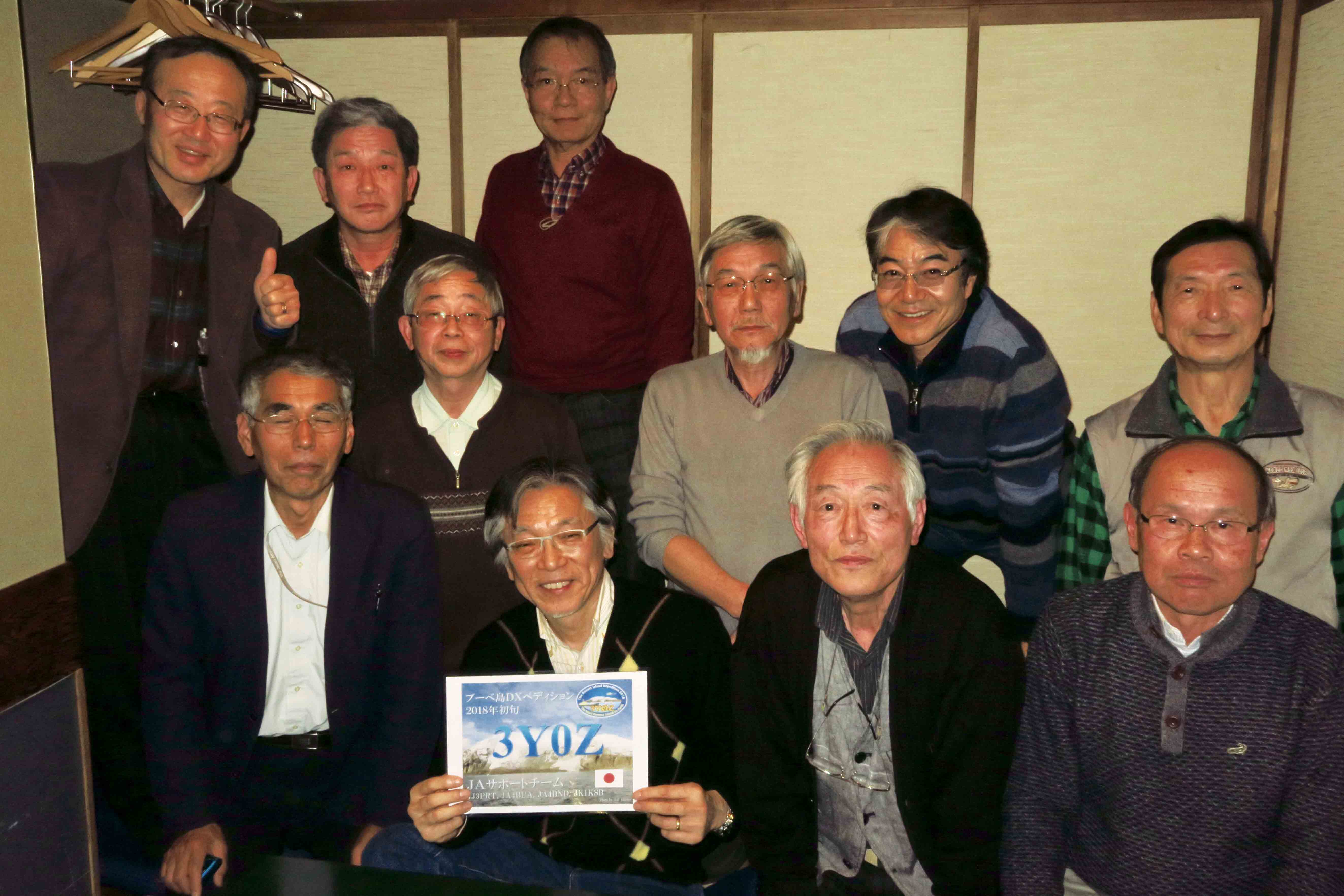 The Toyama DX Club supports the Bouvet Island DXpedition 3YØZ at their party.
富山DXグループ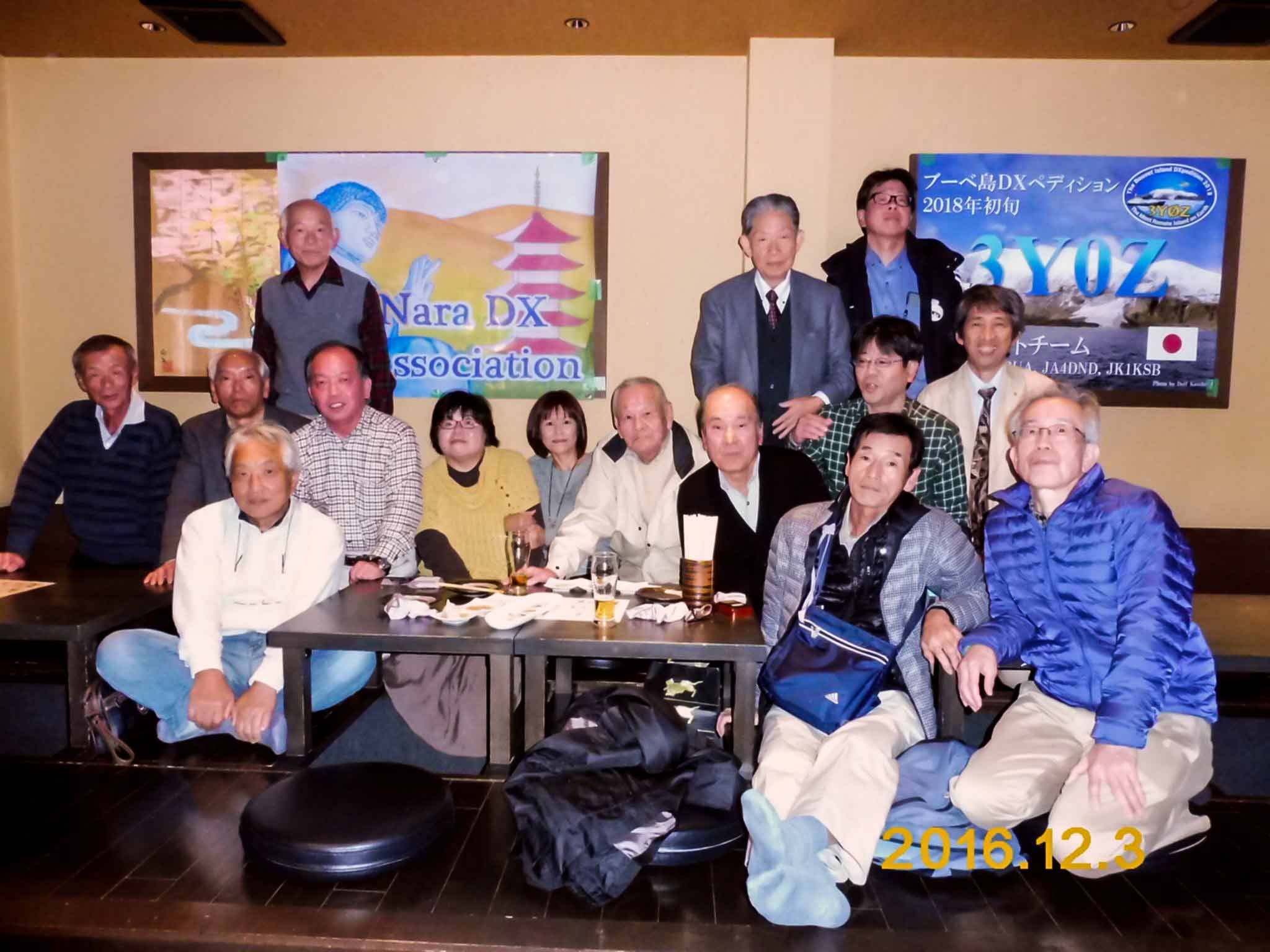 Members of the NARA DX Association supported the Bouvet Island DXpedition at their year end party.
Well known YL DXers from Japan: JP3AYQ – Mami and JO3VCN – Masae.  Mami is famous for her Pacific Islands DXpeditions.
End year party of Rare DX Sweepers Group
根こそぎ隊忘年会
   Tokyo 610 DX Group New Year Party.
東京610 DXグループ新年会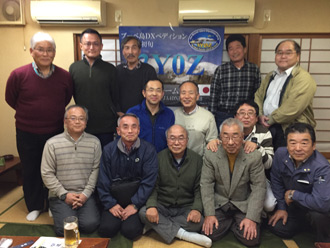 End year party of Matsue DX Group.
松江DXグループ忘年会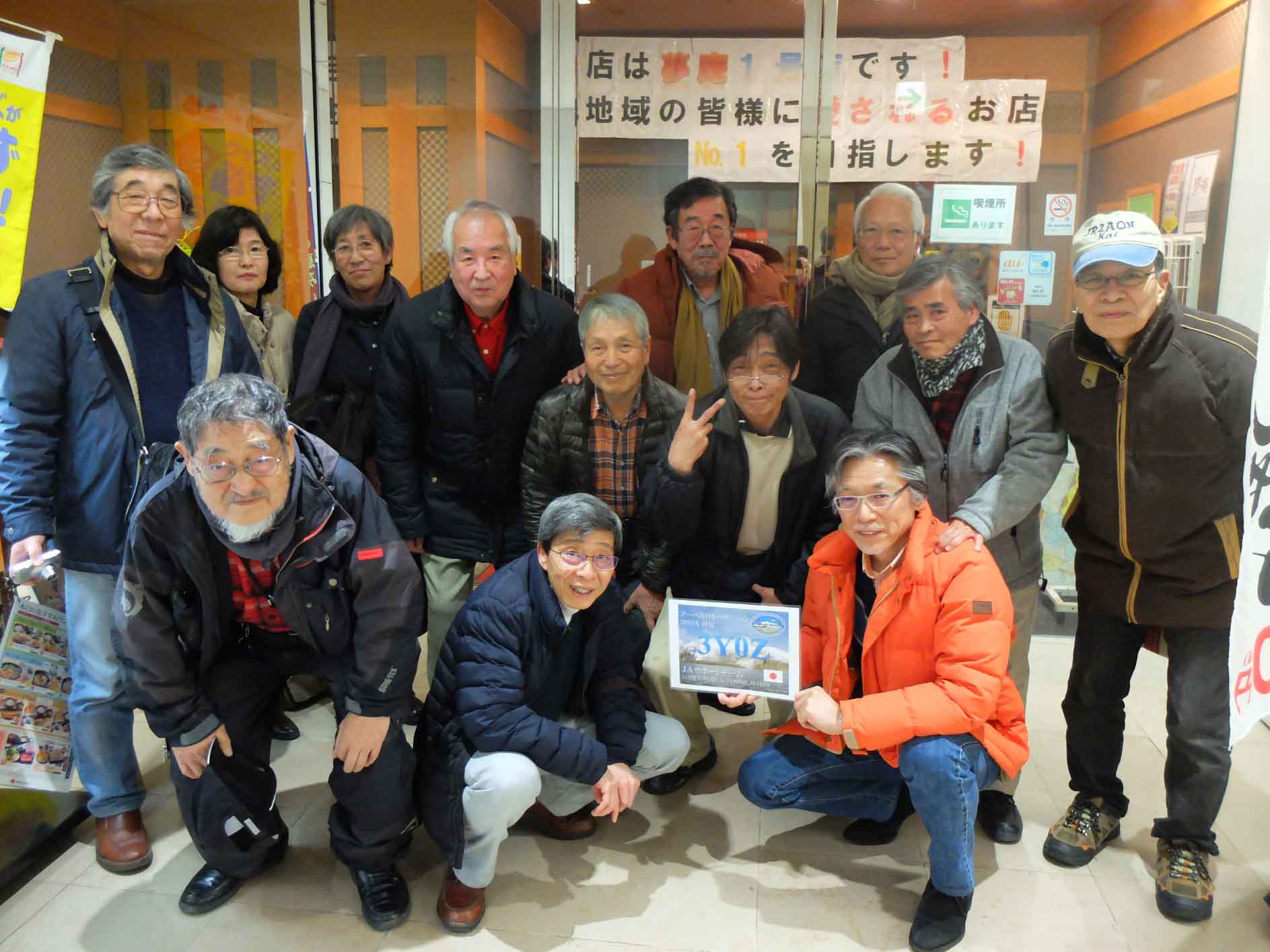 The Tokyo Odakyu Line DXers support 3YØZ.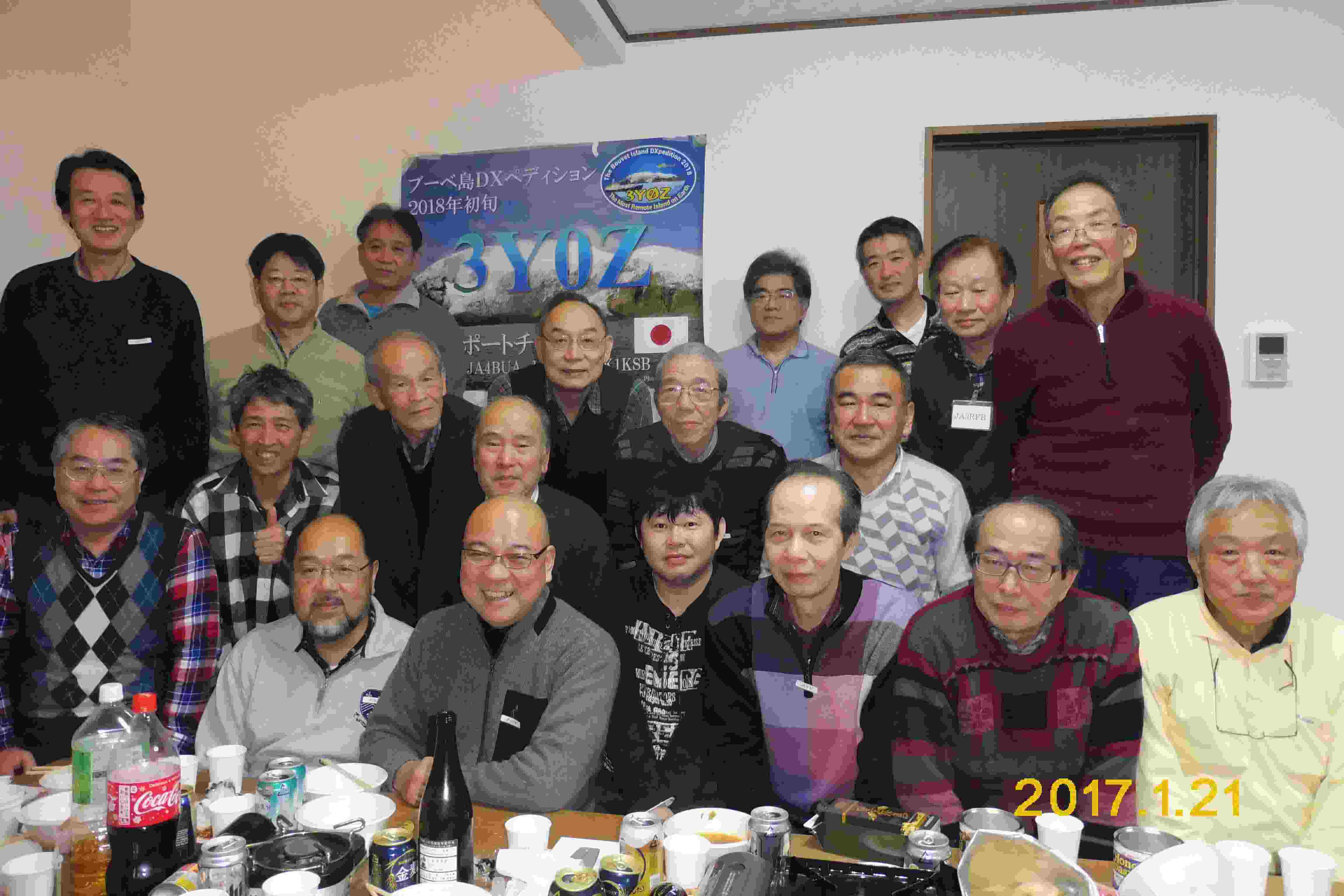 The Osaka Area Hams meet and support 3YØZ.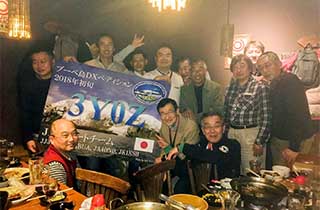 The Tokyo Machida Drunkards DX Club celebrates 3YØZ.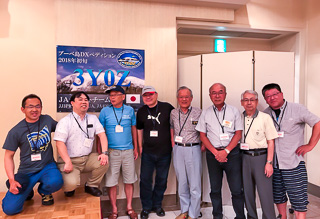 The Kyushu DX Group supported 3YØZ with a very nice contribution.