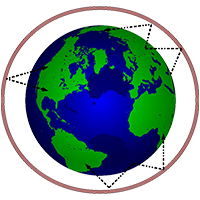 Propagation From 3YØZ to You
The propagation prediction videos below were created using the work of Stu, K6TU, and are based on the National Oceanographic and Atmospheric Administration's estimate of average sunspot numbers for February, 2018. Propagation prediction engines have difficulty predicting 160 meter propagation, since none of them model grayline propagation. As expected, your best opportunities for working Bouvet on 160 meters will be at sunrise and sunset, due to grayline propagation.
As a bonus, you may click on the button to the left to obtain propagation data specific to your QTH. Simply click on the button, and then enter your callsign, grid square and antenna configuration on the pop-up page. Be sure 3Y0Z is selected and click "Save." We look forward to seeing your call in our log. Please support us as best you can.
10 Meters
We will not enjoy the tremendous 10 meter propagation that we did from FT5ZM.  However, light openings may spread across southern Africa and North America.
12 Meters
Signals will be weak, but their distribution extends to more of the world.  North America appears to have the best chance of 12 meter QSOs.
15 Meters
Again, signals may not be strong, but potential coverage increases.  Europe, Asia, the Americas, and Oceania may all see openings on 15.
17 Meters
Signal strength will imporve compared to 15, and worldwide openings are likely.  This appears to be New Zealand's best band.  Seventeen will keep us busy.
20 Meters
20m will be our "workhorse" band.  If you can't work us anywhere else, this will be your watering hole.  If you need Bouvet for an ATNO, we'll be there on 20 for you.
30 Meters
It looks like 30m will behave in its usual manner: worldwide openings, with signals not quite as strong as those on 20 or 40.  It's a band we will watch 24/7.
40 Meters
Predictions say signals should should pound into Europe, Asia, the Americas and Oceania.  This will be a very important band for us — and you too.
60 Meters
Wow!  These predictions are based on 100 watts at each end, with non-gain antennas.  Propagation lights up the world!  This band could be exciting.
80 Meters
Predictions indicate good signals, worldwide.  Combining this with the low noise we anticipate on Bouvet means we should get lots of stations in our 80 meter log.
We are serious about giving you every opportunity to work us — the best transceivers, legal limit amplifiers, the best possible antennas and a propagation-based operation.  If you have supported us, we thank you.  If you have yet to contribute, we would truly appreciate your support.  Help us blow some smoke and get you in the log.  Please enter your callsign, first name and email address when you donate.
Thank you for helping to make this DXpedition happen!