Gridsquare JD15qo
Our plans call for EME operation on both 2 meters and 6 meters, concurrently.  We will utilize the maximum legal power limit on each band and have two dedicated EME operators, plus others will be available to provide relief.  We will use a pair of M2 2MXP22A antennas on 2 meters and an M2 6M8GJ 6 meter Yagi.  On the right is a list of our financial supporters for the EME operation.  These are the people making your EME QSO possible.  Tell them "Thank you."
DF2ZC
DG8NCO
DK4TG
DK5EW
DK5LA
DK5YA
DL1KDA
DL4WO
DL8GP
DL8SCQ
DL8YHR
EA6VQ
F6KBI
F8DO
G4IDR
G8BCG
GM3POI
HA1YA
HAØDU
HB9Q
HSØZIL
I1ANP
I2FAK
I2RV
I3LDP
I3MEK
I4YRW
IK1UWL
IK4PMB
IK4WLV
IW4ARD
JA-EME Club
JA1PFP
JA7QVI
JE1TNL
JE3GRQ
JG1TSG
JM1GSH
K1CA
K1OR
K1WY
K2RW
K2ZD
K2ZJ
K4SQC
K5QE
K7CW
K7RWT
KD7DCR
KB8RQ
KJ9I
MØBPQ
N4HB
N4II
NJ6P
N7IP
N7NW
N8PR
N9HF
NØJK
NH6Y
OE5KE
OH2BC
OK1IL
ON4AOI
ON5DRE
PA3CMC
PA4EME
PA7RA
PA0JMV
SM5DIC
SM7FJE
SP3RNZ
SP7VC
SP8NR
SV8CS
TF3T
VE1KG
VE7AFZ
VK4EME
W1PV
W2HRO
W5ADD
W5UN
W7GJ
W8KEN
W8TN
YL2AO
YO4GJH
ZL1HD
ZL3NW
ZS1LS
ZS4TX
TOTAL: $6500
PA2CHR – Our EME Pilot
We are pleased to have Chris, PA2CHR as our EME pilot.  Chris brings a wealth of information and experience to our EME project.  He has been active on EME for 25 years, and has contacted over 1600 unique stations, using CW and the digital modes.  Chris has conducted 14 EME DXpeditions, including Z21EME, 4O3A,TK, 4U1ITU, HVØA, EA6, J45M, T98CHR, LX, T7ØA, HBØ and others.  Chris will work with Lance, W7GJ to coordinate 6 meter operations.
M2 Antenna Systems has provided our team with a pair of 2MXP22A cross-polarized antennas and power dividers for our 2 meter station and a single 6M8GJ antenna for our 6 meter EME work.  They will work with our team and DX Engineering to provide appropriate boom to mast assemblies.
4O3A is providing our team with a Signature Power Genius VHF Amplifier enabling us to rum maximum legal power to our M2 antennas.
DX Engineering will supply all the EME antenna masts and supports, including guy systems, anchors and control cables.  In addition, DX Engineering will supply the low loss feedline and connectors to minimize our feedline losses, enabling us to make more QSOs.
Downeast Microwave has graciously offered to help us with one of their 2MLDPA amplifiers to use with a Flex 6700 transceiver.  Please thank them for helping to make 2 meter EME from Bouvet possible.
WA2ODO  -Preamps, 6 & 2 meters
PA3BIY     -2 Meter Preamp
PA3FYC    -Sequencer, Pol. Switches
PE1L         – Moon Data, Technical Remote Support
W7GJ        – Moon Data, Technical Remote Support
LA9DL       – Receive Filters
KB3SII      – 6 meter Elevation System
G8VR        – 6 meter Preamp
PA5M        – Coax Relays, Backup Xcvr
GM4JJJ    – Moon Sked Registry Key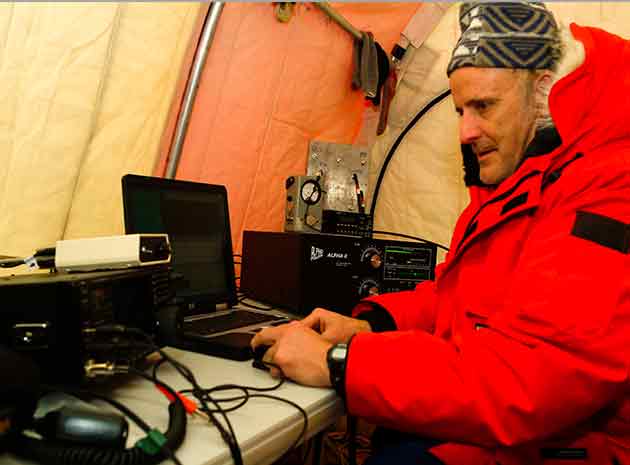 EME From Peter I – 3YØX
Gordon, WØRUN (left) and Michael, PA5M (right) were our EME operators during the 3YØX Peter I DXpedition.  Michael will be in charge of EME operations during our Bouvet Island DXpedition.  He will share the EME duties with Just, LA9DL and Craig, K9CT.
Thank you to everyone who has offered us technical, equipment and financial support.  We are working hard to put together the best possible 2 and 6 meter EME stations with a 2-week stay on Bouvet, centered on the excellent conditions predicted for late January and early February of 2018.  With your help and support, we are moving toward that goal.  Click the links below for more specific information on our 6 and 2 meter operations.